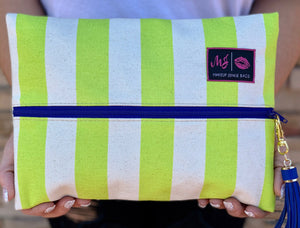 Makeup Junkie Bag: Cabana Neon
Makeup Junkie Bags are the ultimately cosmetic bag for all your storage essentials. Each Makeup Junkie Bag lays flat on a surface, and has an elongated medial zipper eliminating the chances that the bag will fall over sending products everywhere. Each bag is characterized by a signature brightly colored zipper, suede tassel and comes with a designer, moisture resistant interior liner for easy cleaning.
The Cabana Neon Bag is a neon green striped canvas bag, featuring our Royal Blue wipeable interior.
Our designers ensure that each handcrafted Makeup Junkie Bag Cabana Neon bag comes with Royal blue zipper and color coordinating tassels.
LIFETIME WARRANTY through the manufacturer. 
Bag Sizing & Dimensions:
Mini - 4 x 7"

Small - 7 x 9"

Medium - 8 x 11.5"

Large - 9.5 x 13"
** Bag Sizes Will Vary Up to 3/4 in Size Due to Fabric Density **
Care Instructions: Cabana Neon is machine washable, lay flat or hang to dry, do not use iron.
---
We Also Recommend
---