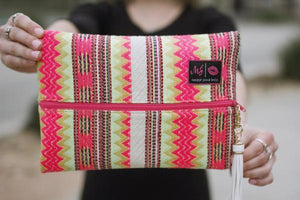 Makeup Junkie Bag: Pina Colada
Makeup Junkie Bags are the ultimately cosmetic bag for all your storage essentials. Each Makeup Junkie Bag lays flat on a surface, and has an elongated medial zipper eliminating the chances that the bag will fall over sending products everywhere. Each bag is characterized by a signature brightly colored zipper, suede tassel and comes with a designer, moisture resistant interior liner for easy cleaning.
The Pina Colada bag is a woven textile with a cheetah wipeable interior. 
The bag look varies as the cut of the fabric changes.
Our designers ensure that each handcrafted Makeup Junkie Bag Pina Colada comes with a pink Zipper and coordinating tassel.
LIFETIME WARRANTY through the manufacturer.
Care Instructions: Pina Colada bags are washable on cold only, remove tassel before washing. Lay flat or hang to dry, do not use iron
Bag Sizing & Dimensions:
Mini - 4 x 7"
Small - 7 x 9"
Medium - 8 x 11.5"
Large - 9.5 x 13"
** Bag Sizes Will Vary Up to 3/4 in Size Due to Fabric Density **
---
We Also Recommend
---